Phone Sex with Lynnea and her Whiskey Honey Voice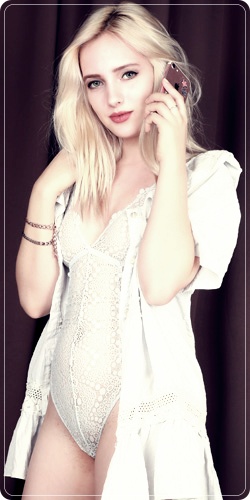 Hey! My name is Lynnea! Want to have phone sex with me? Many men consider me to be "the girl next door" or the type of girl "that you could date in real life". It's my natural personality and I don't put on a "show" when you talk to me. I hate those phone sex ads where the girl says things like "I want to suck your cock" or "I want you to fuck me in the ass". That's not what Phone Sex is… REAL phone sex is 2 people talking naughty and reaching ecstasy together. It's mutual masturbation and that's what it is supposed to be! Roleplays are fun and all, but I like the reality of phone sex the best! I want to tell you EVERY detail about what I am doing on our call, and I want to hear just what you are doing too. Your excitement gets me so turned on because I love the sounds of a man's bated breath. I am the kind of girl who plans out my seductions, I work at it every day, I'm very selective, secretive, and love to toy with a man. Not only do I try to leave a man still struck with desire…. but I also like to leave him panting when I am through.
I am Verbally Artistic and Creatively Articulate!
I am very naturally sensual and flirtatious yet I am also old-fashioned, sultry, classy, honest, naturally naughty, open-minded, imaginative, smart, and educated. I'm truthful and very to the "point", I don't create wild stories or talk "down" to you. I am also a very real person who won't fabricate a wild sexual story and tell you I've done it if I haven't. Consequently one of the types of calls I enjoy most are the ones where we just talk about sex… I find it a big turn on. I'm pretty simple when it comes to my sexuality – I know what I like and what arouses me – I am not complex with it. Phone Sex with Lynnea is not a "performance".
I am not terribly dominant nor am I submissive – I personally feel I am the perfect balance of both. Also, I believe that we all are slightly different sexually with different people. In truth, I feel that every person I am with or talk to can bring out different sides to me. So call me directly on my toll-free number, let's spend some time together. But I'll warn you… the "Lynnea Addiction" is pretty hard to shake off.
I've been told that my voice sounds like whiskey honey… it will warm you from the inside out. My pattern of speech is slow and deliberate, seductive, and sultry. My voice has been compared to velvet and it will capture your attention right away. Phone Sex with Lynnea is genuine and hot!
I'm going to charm the pants right off of you. Some guys say I am the Princess of Seduction. Some guys say I am a hot little minx.  Most of all if you sound sexy, if you are sweet to me, then I will want to cum with you. I'm always told I am the girl next door. But there is so much more to me than that. My mind and speech are slow and gradual. Before you know it you will be lost in my wicked web of lust. My feminine hiss will run through your mind… days later, even when you try to block it out. A phone sex call with me is not some High School play or performance. It's an indulgence in dirty adult delights.
I promise you I know how to be feminine.
Phone Sex with Lynnea is more than an anatomy lesson. I will take your mind hostage, and weave you into my web of lust. I will bring out your natural male urges, so intensely that you will feel my softness beside you. I'm down to earth and I always share myself with you. Yet I want you to know that I'm business-minded, intelligent, open, and our phone call together will be extremely intimate.
Let's try to be more meaningful than: "uh so what do you like" when we talk. We can probe each other's minds deeply. Let's share some real experiences we've had in a blatantly honest environment. Our phone sex call will be exactly as WE MAKE IT. So let's make it personal and real.

Call Me
Schedule
Privacy
Sexting
Call Me

| | | | |
| --- | --- | --- | --- |
| 10 Minutes | 15 Minutes | 20 Minutes | 30 Minutes |
| only $14.99 | only $16.99 | only $18.99 | only $25.99 |

Call Me 10 am-7 pm EST Monday -Friday
1-800-972-LYNN
Text Me: ‪412-212-3046
Schedule

I'm currently available for calls from 10 am until 7 pm EST Monday through Friday. Weekends are by appointment only just send me an email or a text. Sexting can be done after 7 pm and by appointment on weekends. 
During my scheduled hours if you get my voicemail I am probably on another call. Just wait 10-15 minutes before you call back.  If I am on a call I won't answer texts. My attention is on my caller 🙂
Privacy

Privacy is extremely important to callers and to me as well. Here are a few important points about how I handle your privacy!
I do not use your address to send you mail, I don't sell your info to any 3rd parties. And lastly, I never share your information with anymore.

I keep the billing name for your card private by not posting it on my website. I don't want your significant other to discover a bill and do a Google search on the name and find this website. I will however tell you on the phone right away and probably more than once. I assure you it is very discreet and non-descriptive.

I do not store your information anywhere that is online. My computer is extremely well protected with several layers including passwords for literally everything. My computer is in my home office which is locked when not in use. I live alone.

I am an independent operator but run my own company. Everything is legal from my merchant account to PCI Compliance. I own a Trademark, I have the site Copyrighted, and run this service as a real business... because it is. 
Sexting

I do Sexting sessions via Whatsapp or just on my cell phone.  I offer 2 levels of pricing for Sexting with me and both are cheap. Sexting Sessions are to be used up in one day. Time does not carry over.  It would be too much for me to keep track of and then that takes the fun out of it for both of us. The objective is FUN. Right?

30 min for $14.99 or 1 hour for $25.99
To set up a sexting session I will still need to collect all of your info by phone just like I would for a phone sex call. Legally I have to verify age and identity. Please note: you must call my toll free number as I do NOT answer my cell phone.
Phone sex with Lynnea is more than an anatomy lesson, it's being taken hostage by a hot little minx whose sensual moods fluctuate in ways that will leave you panting for more. Phone sex should always be a personal service. When you talk to me – I can get to know you as an individual and want you to do the same. For me, it's knowing you that gets me turned on. You aren't just another call, you are a unique person that I get the chance to talk to!