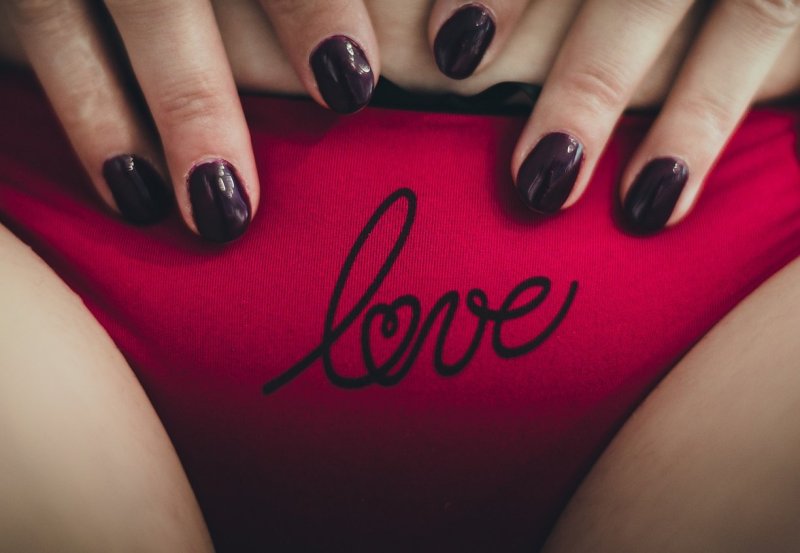 Sometimes I don't wear panties. For instance, if I am going out on a Saturday night in a tight little black skirt – I don't like panty lines. But there are some things I notice more so if I am not wearing panties. The outer lips of my pussy end up slick and wet without the silky panty crotch absorbing all the juice. It can smear against my upper thighs when I sit down and when I cross my legs. Also, I often worry that my warm drink will get onto the skirt … seeping through and showing everyone what a wet snatch I have in public. There's an embarrassment involved … though it would also be rather sexy.
Sometimes knowing how wet I am can be a turn-on, especially in public. It's so exciting that sometimes while sitting and squirming in a chair a bit… I can send a short light mini orgasm into my pussy. It isn't nearly as intense as a normal orgasm, and actually, all it really does is make me want to get fucked more … but still, I like that feeling of being super excited for extended periods of time. Also, it gets me wetter of course, which results in more excitement. And the more excitement involved then the more my hips wiggle without any intentional choice. It can make the muscles in my thighs tighten. It can make me slide carefully rubbing my pussy on the bar stool as I get up from it. These things tend to increase as the night goes on.
My clit starts to get these really tingly good feelings. During regular sex, of course, the tingles run deeper inside, but in the situation, I am describing it is a very specific area (my clit) that gets teased. Often I slip into the toilet stall and give it a flick or two for good measure, and to keep its activity up! By that point, I can usually smell it with my skirt hiked up around my waist as well. I have intentionally dropped things while sitting down, that some gentleman has picked up for me and I wonder if he can smell me as his head passes my hips.
So you see there are good reasons for girls to wear panties. If I don't I can find myself in some kind of "situation" shall we say … but then again tomorrow is Saturday night and I'll be out. Should I wear panties or not? Who will I seduce?